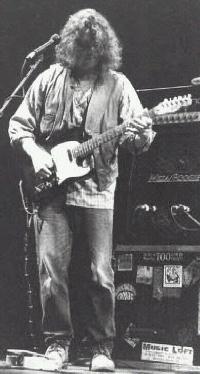 Welcome guitar wranglers! Pull your pony up to the gate and break out your axe.
This section of the site contains the chords and/or tablature for most of the songs Widespread Panic currently performs or has performed in the past. All songs were transcribed by myself and many, many other guitar wranglers, so some may be incomplete, and still others may be (gasp!) incorrect. If you have any suggestions or corrections, please drop me a line.
On each transcription, I've provided links to other information available about each song like it's history, times Panic has performed it, or even just the lyrics.
Thanks to Bryan Miller for supplying the graphics unique to this portion of the site.
Transcription Additions/Updates
Once you've taken a good look around, hopefully you'll have a few more hand-me-down tools to help you along the way. Have fun and keep pickin'!
Big thanks to Burnthday for letting us link to his site for post-Ball releases. We've been really slack about that.
the picture above is for those who can't remember what it was like when Mikey used to stand
These pages may be printed for personal use, but never sold.
---
last updated: March 7, 2001